Industrial End Suction Centrifugal Pump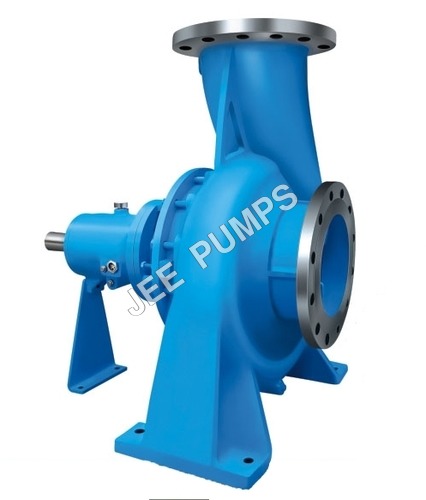 Industrial End Suction Centrifugal Pump
Product Description
JEE PUMPS Series "JCPP" end suction centrifugal process pumps are single stage end suction centrifugal pumps that correspond to the standard DIN 24256 and international standard ISO 2858 in capacity and dimensions.
Features :
Horizontal
Foot Mounted
Single Stage
End Suction and Top Center-line Discharge Confirming to DIN 24256/ISO 2858 standards and in general confirming to API 610 as well.
Applications Centrifugal process Pumps :
Chemical Process Industries
Organic & Inorganic Liquids Refineries
Fertilizer Plants
Dyes & Intermediates Oil Extraction And Waste Oil Refineries
Bulk Drugs And Pharmaceutical
Effluent Treatment Plants
Heating And Air Conditioning Plants
Cooling Towers
Sugar Plant
Fire Fighting
Water Supply Hydrocarbon
Volatile Liquids
Pulp And Paper Textile
Power Steel
Cement Agriculture Fiber
Jet Dying
Thermic Fluid
Hot Water Etc...
Operating Range of Centrifugal process Pumps :
Capacity - Q- Up To 1100 M3/Hr.
TDH H - Up To 150 Mtr.
Pump Sizes - DN 25 mm TO 250 mm.
Speed - N - 960/1450/2900rpm at 50 Hz & 1150/1750/3500rpmat60hz
Temperature 350 C
Material Of Construction :
Graded Grey Cast Iron Carbon Steel ( Wcb)
Alloy Steel Cf8
Cf8m Cf3
Cf3m(Ss-316l) Alloy 20
Cd4mcu. Nickle & Ni-Alloys
Ni-Resist 2-1nicl
R55 Hastelloy- B/C
Gun Metal/Bronze
Optional Accessories :- M.S. Fabricated Base Frame/Flexible Coupling/Coupling Guard/Foundation Bolt.
Thanking you in anticipation & assuring you best of our services.